Crucifixion Group
When Jesus saw his mother there, and the disciple whom he loved standing near by,
he said to her, 'Woman, here is your son,'
and to the disciple, 'Here is your mother.'
John 19:26-27
The crucifixion group on top of the rood screen dates back to the 15th century. It includes Jesus' mother Mary and the "disciple whom Jesus loved", John.
Small angels between these figures bear chalices for the blood of Christ.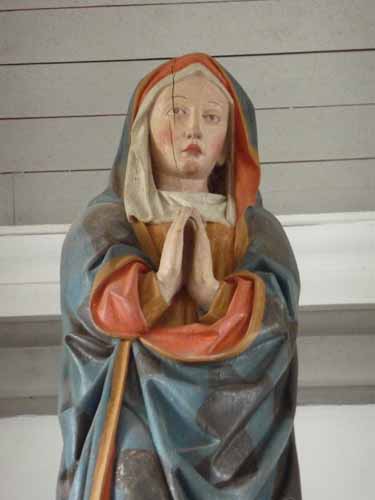 Return to Church Tour.
Enjoy more pictures of our beautiful church in the gallery.
John 19
Near the cross of Jesus stood his mother,
his mother's sister, Mary the wife of Clopas,
and Mary Magdalene.
When Jesus saw his mother there, and the disciple whom he loved standing near by,
he said to her, 'Woman, here is your son,'
and to the disciple, 'Here is your mother.'
From that time on, this disciple took her into his home.