Church Tour


The sparrow has found a home,
and the swallow a nest for herself,
where she may have her young -
a place near your altar, oh LORD Almighty,
my King and my God.
Psalm 84:4
We invite you to take a tour through our church!
Choose one of the links below to explore our beautiful 13th century church.
Better still: Come and visit our church in the "real" world!
If you enjoy the more playful approach, you may want to try our interactive church tour!
St. Juergen - Saint George
No one, not even the oldest members could remember the original name of our church... more
Exterior
Our church was built around 1250 A.D. ... more
Bell Tower
Our wonderfully lop-sided bell tower... more
Interior
A church is built, develops, and changes over the course of time... more
The Rood Screen
One of the most prominent features of our church is the rood screen which separates the sanctuary from the nave... more
The Fresco
Rediscovered when the church was being renovated in the 1970s: a medieval fresco on the northern wall... more
Crucifixion
On top of the rood screen: a 15th century crucifixion group... more
The Pulpit
A beautiful Renaissance pulpit adorns our church... more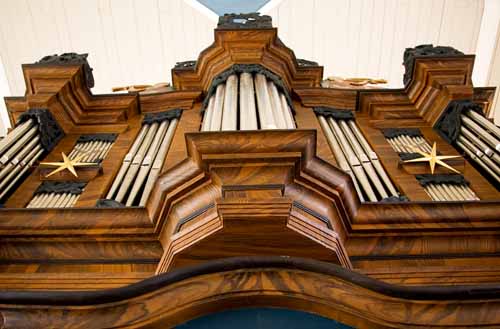 The Organ
A small one-manual historical instrument with a beautiful sound... more
The Old Altar
The old altar which is positioned in the sanctuary is the work of a group of 17th-century artists from the town of Esens... more
The New Altar
Our church not only has the old but also a new altar, built when the church was restored in the 1970s... more
The Baptismal Font
The baptismal font also dates back to the 1970s church restoration... more
The Chandeliers
The three large chandeliers above the center aisle... more
Psalm 84
How lovely are your dwellings, O LORD of hosts!
My soul longs, and even faints for the courts of the LORD.
My heart and my flesh cry out for the living God.
Yes, the sparrow has found a home,
and the swallow a nest for herself,
where she may have her young,
near your altars, O LORD of hosts,
my King, and my God.
Blessed are those who dwell in your house.
They are always praising you.
Blessed are those whose strength is in you;
who have set their hearts on pilgrimage.
Passing through the valley of Weeping,
they make it a place of springs.
Yes, the autumn rain covers it with blessings.
They go from strength to strength.
Everyone of them appears before God in Zion.
O LORD, God of hosts, hear my prayer.
Listen, God of Jacob.
Behold, God our shield,
look at the face of your anointed.
Better is one day in your courts
than a thousand elsewhere;
I would rather be a doorkeeper in the house of my God,
than dwell in the tents of the wicked.
For the LORD God is a sun and shield.
The LORD will give grace and glory.
He withholds no good thing
from those who walk blamelessly.
O LORD of hosts, blessed are those who trust in you.