Exterior
See, I have engraved you on the palms of my hands;
your walls are ever before me.
Isaiah 49:16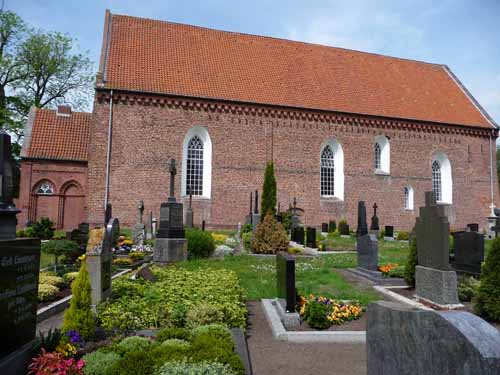 Our church was built during the 13th century.

Originally, there was a rounded apsis on the East side of the church. This had to be removed after only fifty years though due to statical problems.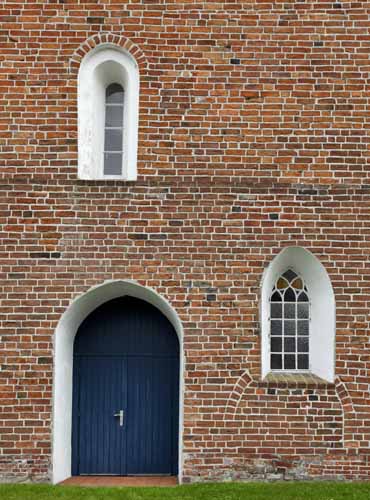 Originally, the church only had a few small windows.
Brick arches tell the story of where the original windows had their places and which windows have been cut into the walls at a later time.
The original site of the door, here on the Northern wall, is also easy to recognize.
The present-day narthex on the West side of the church is a more modern addition of the 19th century.

Return to Church Tour.
Enjoy more pictures of our beautiful church in the gallery.
Psalm 84
How lovely are your dwellings, O LORD of hosts!
My soul longs, and even faints for the courts of the LORD.
My heart and my flesh cry out for the living God.
Yes, the sparrow has found a home,
and the swallow a nest for herself,
where she may have her young,
near your altars, O LORD of hosts,
my King, and my God.
Blessed are those who dwell in your house.
They are always praising you.
Blessed are those whose strength is in you;
who have set their hearts on pilgrimage.
Passing through the valley of Weeping,
they make it a place of springs.
Yes, the autumn rain covers it with blessings.
They go from strength to strength.
Everyone of them appears before God in Zion.
O LORD, God of hosts, hear my prayer.
Listen, God of Jacob.
Behold, God our shield,
look at the face of your anointed.
Better is one day in your courts
than a thousand elsewhere;
I would rather be a doorkeeper in the house of my God,
than dwell in the tents of the wicked.
For the LORD God is a sun and shield.
The LORD will give grace and glory.
He withholds no good thing
from those who walk blamelessly.
O LORD of hosts, blessed are those who trust in you.