The Organ
Praise him with the sounding of the trumpet,
praise him with the strings and flute,
praise him with resounding cymbals.
Let everything that has breath praise the LORD.
Psalm 150
Our organ was built in 1772 by Hinrich Justus Mueller.
It is a small one-manual historical instrument with a beautiful sound.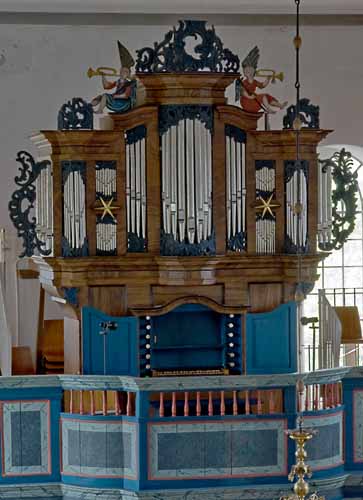 It has most recently been restored in 2000 by the organ builders Beckerath of Hamburg.
At that time, two of the original reed stops which had got lost throughout the centuries were readded.
Now the more austere tones of Dulciana and Trumpet enhance the diversity of the instrument.
The Zimbelstern exteriors, however, only are non-functional decoration. It is not quite certain if there ever was a working mechanism behind them.


Return to Church Tour.
Enjoy more pictures of our beautiful church in the gallery.
Psalm 150
Praise the LORD!
Praise God in his sanctuary;
praise him in his mighty heavens!
Praise him for his acts of power;
praise him for his surpassing greatness.
Praise him with the sounding of the trumpet,
praise him with the harp and lyre,
praise him with tambourine and dancing,
praise him with the strings and flute,
praise him with the clash of cymbals,
praise him with resounding cymbals.
Let everything that has breath praise the LORD.
Praise the LORD!